The Twelfth Chair
"Monument to the Chair'' is a tribute to creativity of Odessa's outstanding writers Ilf and Petrov. On a plot of their legendary novel, the heroes are chasing a scattered set of 12 chairs, one of which contains a different treasure: my jewels are the famous phrases from the novel, which are engraved on the back of the chair along with images of lapel ping and coins of that time. But the most important peculiarity of this sculpture is its provocative nature. It invites viewers to the endless game with he sculpture, a kind of a performance of relations.
---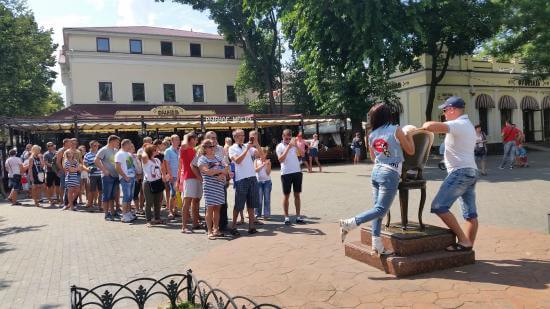 ---
After some time, when literally millions of tourists had already taken their photos with the chair, it was removed for restoration. The townspeople panicked, thinking that it was simply stolen. Being anxious, they phoned my mother, and she reassured them, saying "The chair is safe and sound, Misha is restoring it". Then there followed another question: "What if it's replaced during the restoration?!"
---
Odessa is a unique city: if its citizens come to like something, then they consider it "their own", and god forbid anyone to touch this "their own" or replace anything in it. All exhaled in relief only after the chair has been reinstalled and carefully examined whether all scratches were in place.